How It All Started
Making twine knotted rosaries/chapplets MRI safe for the sick.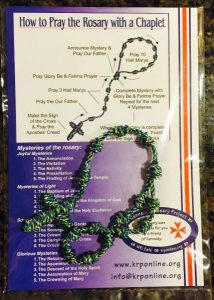 At age 2, Kennedy was diagnosed with a spinal cord tumor. Since her diagnosis, she has spent countless hours in the MRI. She has received much comfort from praying the rosary in the MRI, but did not have a rosary that she could actually take in with her. So we have created a new ministry called Kennedy's Rosary Project. The rosary chaplets are hand-knotted from nylon twine and are MRI-safe. The mission of this ministry is to make twine knotted rosaries and chaplets, pray them and give them away.
The MRI-safe Rosaries are placed in special packaging featuring instructions on how to pray the Rosary and are placed in a box which shares Kennedy's story. Boxes are located in MRI centers and hospitals. It is our goal to be able to keep the KRP boxes in several locations full and share this ministry with others. We'd love your help.
Contacts:
Click here to email Kristy Snyder
Click here to email Liz Tamarkin