"He will be called John." Luke 1:60
On June 24, the Feast of the Nativity of our patron, St. John the Baptist, we were led by our Area Chaplain Fr. Gregory Fay, in Mass at San Jose Catholic Church.
Below is a message from our Area Hospitaller, Thomas Egan, KM.
"Dear Friends,
You demand the company of the house and you are right, because many genteel men make great prayers and have great joy when they can put one of their children or of their friends in this religion. And if it is your will to enter in such a handsome and honourable company, and in such a holy religion as the one of the Hospital is, you are indeed right. And in case it is that you see us so well dressed, [with] big horses, and cared for with all eases, you are deceived, because when you will want to eat, it will be arranged for you to fast, and when you will want to fast, it will be arranged for you to eat. And when you will want to sleep, then it will be arranged for you to vigil. And when you will want to vigil, then it will be arranged for you to sleep, and you will be sent here and there in places you will not want to go to, and it will be arranged for you to go there. And also, it will be arranged for you to loose all your will, in order to act in favour of others. And many other hardships will have to be suffered in the religion, more that what one could say.
You promise and vow unto God and Our Lady, and unto Monsignor Saint John Baptist to live and to die in obedience, and to be obedient to that sovereign whom God will give you. And then you promise to live chastely till your death. And then you promise to live without properties. And moreover, we make another promise, which nobody else makes, that is you promise to be servants and slaves of our lords the sick."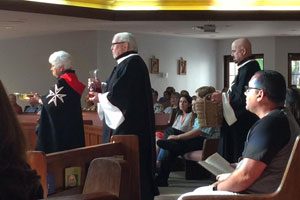 This ancient admonition is presented as the opening remarks of the Regulations and Commentary of the Order of Malta. While much has changed in the world over the centuries, little has changed in the demands of our Order. Also included in the Regulations and Commentary is this observation by Pope St. John Paul, II:
The history of the Order teaches us to be outposts of the Church and to place ourselves on the battle-line beyond which the Church is in danger of being attacked by a hostile world. Through the centuries we have fought with the weapons that were at the time most adequate.
When we were received into the Order, each of us made the following pledge:
I promise, calling on the name of God, in chivalrous fidelity, always to bear witness to the Catholic Faith, to defend the Church, and to lead my life in accordance with the teachings of Holy Mother Church. I declare myself ready to obey the Constitution, the statues, and the Rule of the Order, and to fulfill with fidelity and diligence whatever the Order and my superiors impose on me. To all this, so help me God, our Lady of Philermo, Saint John the Baptist our glorious patron, Blessed Fra' Gerard our founder, and all the Saints of our Order. You here present I also call to witness my commitment.
Observing the Feast of our Patron St. John the Baptist, may we renew our commitment to these sentiments, and to the works they portend.
Thomas M. Egan, KM
Northeast Florida Area Hospitaller
"Tuitio Fidei et Obsequiem Pauperum"