More than 90 Dames and Knights, members of the New Jersey Area of the American Association of the Sovereign Military Hospitaller Order of St. John of Jerusalem, of Rhodes and of Malta, known as the Order of Malta, congregated on Sunday, June 25th at a special mass honoring the patron saint of the Order, St. John the Baptist, for his feast day.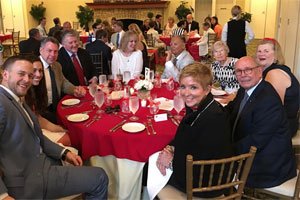 The Mass was held at St. Margaret's Church in Spring Lake and celebrated by Rev. Owen B. Moran, ChD, with concelebrants Rev. Msgr. Sylvester J. Cronin, ChD, Rev. Msgr. William J. Fadrowski, ChM, Rev. Msgr. Michael Mannion, STL, ChM and Rev. Salvatore DiStefano, ChD.  Music was provided by a chamber music group and a guest vocalist under the direction of St. Catherine's musical director Jarred Tafaro. Attendees convened for a dinner at the Spring Lake Country Club following the Mass where members, who celebrated five, 10, 15 and 20 years membership in the Order, were awarded a citation for their service.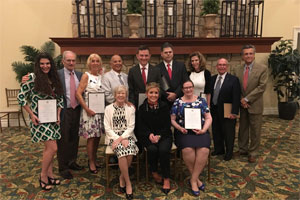 According to the event organizer, Katherine Suplee, the annual event honors St. John the Baptist who has served as the patron saint since the founding of the hospitaller order by Blessed Gerard in Jerusalem in 1048. "This annual event to honor our sainted patron," Ms. Suplee said, "provides an opportunity to renew friendships and acquaintances in a spiritual and congenial setting. The New Jersey Area of the American Association of the Order has more than 110 members who live throughout the five New Jersey dioceses of Camden, Metuchen, Newark, Paterson and Trenton."
The mission of the Order is to promote the spiritual well-being of its members and to care for the poor and the sick.  The Order has a worldwide relief agency, 33 national volunteer corps, numerous hospitals, medical centers and specialist foundations.
For more information, contact Joanne Rajoppi at via email or 908-468-1012.