Knights, Dames, and Year of Preparation Candidates traveled to Huntington, New York on Friday, September 22nd for the Association's 2017 Fall Retreat. Bishop John O'Hara, the Retreat Master and Auxiliary Bishop of New York, led thirty-five attendees through a weekend of prayer and reflection at the Immaculate Conception Seminary, located on a quiet property overlooking the Long Island Sound. Its location and facilities provided an ideal place to spend time getting closer to God and growing in appreciation of His many gifts to us.
The theme of the retreat "Don't Be Afraid of Anything: Christ is Victor!" was ever present throughout the weekend as retreatants joined together for morning and evening prayers, attended conference sessions, and participated in engaging breakout sessions. Each evening concluded with a social gathering, where members had a chance to share in the camaraderie that is common to the Order.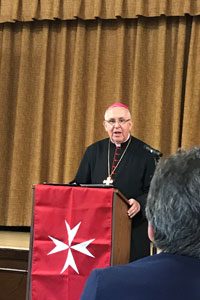 One attendee said, "Bishop O'Hara was outstanding. It is hard to believe that it was his first retreat." Another said, "Bishop O'Hara was a gift of the Holy Spirit. Presentations were enlightened (and provided) a lot to think about." And another attendee said, "Bishop O'Hara was a delight. His talks were scholarly, deeply spiritual and inspiring – all interspersed with meaningful anecdotes…best speaker I've met in years."
One moment that appeared to be another gift of the Holy Spirit occurred at Saturday's Mass when a group of young people who were meeting at the Seminary joined us for Mass. At the end of the Mass, the Bishop went to the back of the chapel to speak to them; he asked them who they were and why they were at the Seminary. He, and many, were clearly moved when one young woman stood to explain that they were part of The Culture Project, an initiative of young people set out to restore culture through the experience of virtue, proclaiming the dignity of the human person and the richness of living with sexual integrity, inviting our culture to become fully alive.
If you were not able to make it to the 2017 Fall Retreat, please click here for more information on upcoming retreats. We hope that you can join us on an Association retreat, where you will have the opportunity to enrich your spiritual life as a member of the Order of Malta, American Association.