The Eastern Connecticut Area invites you to the Order of Malta, American Association's 6th annual Lourdes in a Day Pilgrimage on Saturday, September 21st in West Hartford, Connecticut. It is a day of grace and healing following in the footsteps of pilgrims at Our Lady's Shrine in Lourdes, France. The 2019 Lourdes in a Day will be celebrated by Bishop Peter Rosazza, pictured left, Bishop Juan Miguel Betancourt, and Fr. Robert Dunn.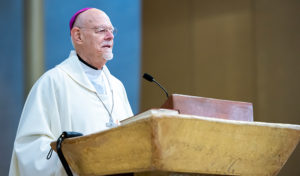 Each year, malades and caregivers unable to attend the annual Lourdes Pilgrimage are given the opportunity to experience "Lourdes in a Day" at the St. Peter Claver Church in West Hartford, Connecticut. The day includes Reconciliation, Rosary, Washing of the Feet, Anointing Mass, Adoration and Exposition of the Blessed Sacrament, Benediction.
Local Knights, Dames, and Auxiliary provide malades and caregivers with the opportunity to receive the sacraments and join in prayer and spiritual growth. The Annual Lourdes in a Day Pilgrimage, which began in 2014, is jointly sponsored by the American and Federal Associations. Please click here for more information and to RSVP.