The COVID-19 crisis continues in Bethlehem in 2021, with many having contracted the virus and the entire region shuttered. On Monday, March 8, 5 of the 12 mothers delivering babies at Holy Family Hospital tested positive for COVID with respiratory complications. Economic hardships are forcing mothers to make impossible choices. Many mothers are prioritizing feeding their families before buying prenatal vitamins or eating themselves.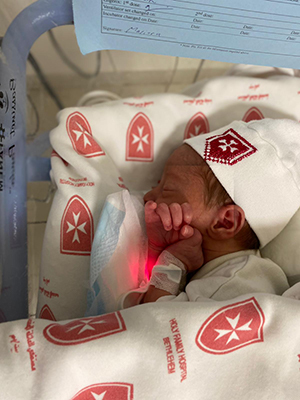 Dr. George, the head of the NICU, stated that many babies are smaller and sicker than in years prior due to food insecurity and insufficient nutrition. Despite these heart-wrenching challenges, the NICU staff is resilient. Working together, they saved the lives of 67 babies born before 24 weeks. The doctors and nurses in the NICU are so dedicated that many have worked continuously since March 2020 with no vacation. They often work overtime to cover for those who are quarantined or sick. Eleven of the NICU staff are infected with COVID, so the remaining staff are filling in for their colleagues. Despite it all, the staff is so joyful at the birth of each baby. The hope that each baby brings gives them the courage to carry on cheerfully.
Holy Family Hospital is a primary work of the Order of Malta. American Association members that sit on the Board of Holy Family Hospital Foundation include Ellen S. Shafer, Chairman of the Board, Gail T. Berardino, Jean L.P. Brunel, Thomas E. Driscoll, Michael J. Heck, Molly K. Heines, and Nicolle C. McGowan, MD. Visit birthplaceofhope.org to learn more about Holy Family Hospital and our response to the COVID-19 crisis in Bethlehem.