In 2012, Holy Family Hospital launched its Well Woman Clinic dedicated to meeting the complex healthcare needs of women in all stages of life. The only one of its kind in the region, it offers routine screenings, gynecological surgeries, diabetes diagnostics and treatment, and cancer screenings.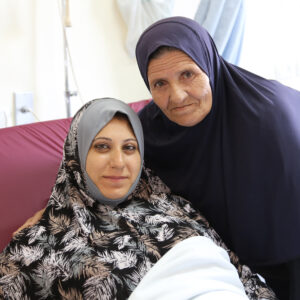 In addition to operating at Holy Family Hospital, the Well Woman Clinic doctor regularly accompanies the Mobile Clinic into the desert communities to meet with women who cannot travel to Bethlehem.
As the humanitarian crisis deepens, HFH remains more determined than ever to remove all barriers to preventative healthcare for women of every age.
In early summer, Amal began experiencing severe abdominal pain and uterine bleeding. Upon arrival to Holy Family Hospital's Well Woman Clinic, she was admitted for a complete lab and imaging work up and was quickly diagnosed as needing surgery.
Amal was incredibly anxious – both about her health and her ability to pay for the services she was receiving. Since the pandemic hit Bethlehem, her husband had not been consistently employed and she had no idea how her family could afford her care. The social workers intervened, and assured Amal that Holy Family Hospital would provide her with the highest quality medical care regardless of whether she could pay for it or not. Feeling relieved, Amal chose to undergo surgery.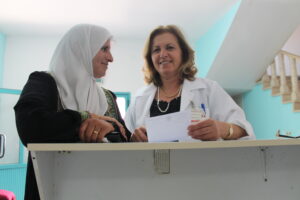 "You are angels. This clinic encourages all women to make their health their priority. Holy Family Hospital provided me with the best medical care and so much emotional and psychological support. You and your donors are saving the lives of many women." Amal said.
As the pandemic wears on in the Holy Land, Bethlehemites are struggling to provide for their families. A lack of sustained income is thrusting middle class families into poverty not seen in generations. Thanks to your generosity, Holy Family Hospital remains a cornerstone in the community by providing the very best healthcare to all women every day.
Holy Family Hospital is a primary work of the Order of Malta and a shared work of all three US associations (American, Federal, Western). American Association members on the Board of Holy Family Hospital Foundation include Ellen S. Shafer, Chairman of the Board, Gail T. Berardino, Jean L.P. Brunel, Thomas E. Driscoll, Michael J. Heck, Molly K. Heines, and Nicolle C. McGowan, MD. Visit birthplaceofhope.org or contact Kate Robinson, Foundation Director, at kate@hfhfoundation.org to learn more about Holy Family Hospital and our response to the humanitarian crisis in Bethlehem.