Plan to Attend the Summer Retreat!
June 23-25, 2023
Join the American Association and its Northeast Wisconsin Area and plan to attend an Extraordinary Summer Retreat in celebration of the Feast of our Patron, St. John the Baptist.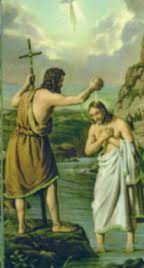 The retreat theme, "Return of the Prodigal Son", encompasses the mission and message of our great Patron: repentance and conversion, a vital and ongoing pursuit of our rich Catholic Faith. It also carries forward the message of our Blessed Mother who appeared to Adele Brise at the location of the Shrine of Our Lady of Good Help calling her to "pray for the conversion of sinners and offer her Holy Communions for them."
Retreat Master, Fr. Joseph Aytona, Rector of the National Shrine of Our Lady of Good Help in Champion, Wisconsin, who has conducted hundreds of retreats and can also be seen frequently on EWTN television, is a priest of the Fathers of Mercy. Father Joseph will share inspiring insights on the healing touch of God's great Mercy and will offer the Sacrament of Confession after each of four conferences.
The retreat is being held in community with the Norbertine Abbey in De Pere, Wisconsin, which offers lodging in the beautiful newly renovated Spirituality Center located on 160 acres where many whitetail deer roam freely. The grounds feature magnificent flower gardens displaying exquisite color and a well-manicured walking trail. A special bonus is a visit to the Shrine of Our Lady of Good Help in Champion.
Early reservations are recommended and accepted on a first come basis as lodging accommodations at the Abbey are limited. Overflow accommodations are available at the Kress Inn, (part of the Ascent Hotel Collection) located on the St. Norbert College Campus a short distance away from the Abbey. Meals will be served at the Abbey and the Shrine.
As an added bonus for your convenience and visit to Wisconsin, the Abbey offers lodging for travelers who may want to arrive early before the start of the retreat or stay after the retreat is over.
Click here to log into the Members Only section of the website to sign up today for what promises to be a captivating spiritual experience certain to draw you closer to God!