Officers
President
Jack E. Pohrer, GCM
Missouri. Member since 1992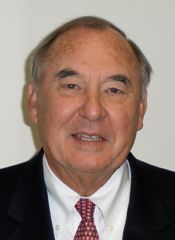 Jack completed his first term on the Board of Councillors where he served as Chair of the Audit Committee, Chair of the Defense of the Faith Committee and Chair of the Auxiliary Committee.
He was Co-Chair of the Lourdes Pilgrimage in 2002 and has subsequently served in Lourdes as Captain of the Auxiliary in 2004, 2005 and 2006 and as President of the 2007, 2008, 2009, 2010, 2011 and 2012 Lourdes Pilgrimage. He has been a Lourdes Pilgrim every year since 2000.
He is a former Area Chair and former Hospitaller for St. Louis, Missouri. Served on the Board of St. Patricks Center, a Malta Project. Prepares dinner monthly for Rosati Center (mentally ill homeless residence), a Malta project. Chairman of Today and Tomorrow Educational Foundation (provides scholarships for students at Catholic Schools). Chairman of the Finance Council of the Archdiocese of St. Louis, former Budget Chairman for the Archdiocese of St. Louis, Past Chairman of Catholic Charities, Past Chairman of the Catholic Commission on Housing. Serves on other Catholic, charitable and civic boards in the St. Louis Metropolitan area.
Business Executive and Principal with interests in the parking industry, real estate, hospitality.
Graduated from Holy Cross College and St. Louis University Law School.
Served in the Missouri State Legislature.
Chancellor
Richard D. Milone, MD, KM
Westchester. Member since 1990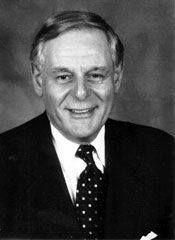 Dick Milone has served the Order as the long-time Chair of the Lourdes Medical Committee and the Lourdes Malade Selection Committee. He and his wife Dede, DM have attended twenty Lourdes Pilgrimages, and they were Co-Chairs of the 2012 Lourdes Pilgrimage.
Dick is a graduate of Georgetown University and Creighton University School of Medicine. He is the Medical Director of Saint Vincent's Hospital in Harrison, NY, and serves on the New York State Board for Professional Medical Conduct.
A past member of the Board of Councillors, he has served on several Board Committees, including Membership, Defense of the Faith, Nominating and the Executive Committee.
Dick is the Co-Founder of the Clergy Consultation and Treatment Program at Saint Vincent's, and he helped to establish Daystar, a Good Counsel Home for mentally-ill pregnant women on the grounds of Saint Vincent's Hospital.
For his Lourdes Pilgrimage work, Dick has received an Honor of the Order, Cross of the Order, "pro Merito Melitensi". He is a recipient of the Good Counsel Sursum Corda Award, the Saint Vincent de Paul Award of Saint Vincent's Hospital, and with Dede, the Child of Peace Award given by the Catholic Home Bureau of the Archdiocese of New York.
Treasurer
Joseph M. Cianciolo, KM
Rhode Island. Member since 1990
Joe served two terms on the Board of Councillors (2002 - 2008). During that period, he chaired the Grants and Audit Committees and was elected Treasurer of the Board. Previously, he was the Rhode Island Area Chair. In 2003, he was appointed by the Malta Sovereign Council for a five year term to the Order's international Finance and Audit Committee, based in Rome. He has been a five time participant in the Lourdes Pilgrimage.
Joe was the Managing Partner of the Providence Office of KPMG. He now serves as an Independent Director on several publicly listed companies. An honors graduate of Providence College, he served as Trustee of the College, as the Alumni President, and has received the College's Distinguished Public Service Award. At Rhode Island Hospital, he has been the Treasurer of the Board of Trustees for six years and serves weekly as an extraordinary minister.
Joe has been United Way SE New England Campaign Chair, Chair of Catholic Charities of RI, President of the RI Philharmonic Orchestra, President of The University Club and a member of the Governor's Economic Advisory Council.
He and his wife, Jude, live in Providence and have four married children and thirteen grandchildren.
Secretary
Christopher J. Godfrey, KM
Northern Indiana. Member since 1997
Chris has been a member of the Board of Councillors for five years, serving on the committees: Membership, Education/Defense of the Faith, Works/Ministries. He has attended many Order of Malta Investitures, National Conferences, and Pilgrimages.
Chris serves as the Area Chair for Northern Indiana where he began Days of Recollection, a Mass for Life, newsletter, website, the Area's first Order of Malta Auxiliary, and organized an annual day for Special Olympics Athletes. Chris instituted a Day of Grace and Healing at the University of Notre Dame, thereby recreating our Lourdes Pilgrimage for the sick and their caregivers. This event is now held annually. He has also hosted two Malta Forums on Catholic Healthcare at the St. Joseph's Regional Medical Center.
He is the founder and President of Life Athletes which is an association of professional and Olympic athletes who teach and inspire young people to live lives of virtue, chastity and respect for life. Other work experience includes: professional football with Super Bowl XXI Champion New York Giants; United States Department of Health and Human Services Office of the Inspector General in Washington, D.C.; he is presently a member of the Indiana Bar.
Chris is a graduate of the University of Michigan (1980) and of the University of Notre Dame Law School, (1993).
Chris and his wife, Daria, have been married for 28 years and have six wonderful children.
Hospitaller
Thomas J. Reedy, KMOb
Illinois. Member since 2002
After serving as Vice Hospitaller for two years, Tom Reedy was elected Hospitaller in 2012.
Tom is a member of the Board of Councillors. Additionally, he has served as the Area Chair for Illinois since September 2007. Tom has been the Chair of the Communications and Admissions/Preparation Committee. He served as a 2011 Regional Area Coordinator.
Tom has participated in five Lourdes Pilgrimages. He attended the Holy Land Pilgrimage in 2007. He entered into Obedience-Second Class of the Order 2011 and is a member of the Sub Priory of Our Lady of Lourdes.
Tom has served on the Catholic Charity Board of Advisors and as President of the Chicago Chapter of Legatus 2005-2008. He is Chairman of Reedy Cares which serves underesourced communities in the Chicago area and is a member of St. Norbert's Parish.
He is the Managing Director of Reedy Industries, Inc. in Glenview, IL.
A graduate of the University of Notre Dame, he and Missy have two children and live in Northbrook, IL.
Vice Hospitaller
Peter J. Kelly, MD, KM
Massachusetts. Member since 1998
Peter is a graduate of the University of Notre Dame and Georgetown University Medical School. He trained in Ophthalmology at Tufts New England Medical Center in Boston. He has been practicing Ophthalmology in Western Massachusetts since 1981.
In 1993, Peter began to volunteer in Haiti at Hopital Sacre Coeur which is run by the Crudem Foundation. It was during his many volunteer trips to Haiti that he was introduced to the works of the Order of Malta. Impressed by the mission of the Order, he became a Knight in 1998. He joined the board of the Crudem Foundation in 1999 and has been President of the board since 2006.
Peter has participated in six Lourdes pilgrimages where he has served on the medical committee. He and his wife Linda, a hospital chaplain, are Eucharistic ministers in St. Cecilia's parish in Wilbraham, MA. They have been married for 35 years and have three children, 2 sons who are physicians and a daughter who is a special education teacher for visually impaired children.
# # #