The Eastern Connecticut Area has dedicated many of their activities this month to the 2nd World Day of the Poor. 
Defense of the Faith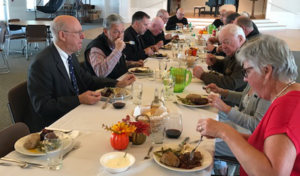 On November 10th, members arranged a liturgy for local retired priests. They also arranged to transport the retired priests from nursing homes and family residences, as they do not all have residences or transportation, and provided them with a home cooked meal, offering them thanks for their lifetime of service to us and the poor.
Garden in Westbrook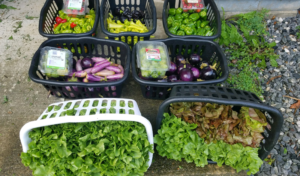 The YMCA in Westbrook, Ct,  is the site of a garden supported in part by the Eastern Connecticut Area.  Local Knights volunteer throughout the year in growing, weeding, picking and distributing fresh vegetables for the poor in the area who do not have access to inexpensive, fresh vegetables. This project is instrumental in distributing a total of 2,600 pounds this season, ending with bed preparation in the fall, in November.  This will continue with our support next year as planning is currently underway to choose crops etc.
Haitian Health Health Foundation
Many local members assist in the collection of cans of SPAM, canned meat, for the Haitian Health Health Foundation.
Hospital in Haiti
A Knight and Dame from the Eastern Connecticut Area manages a hospital in Jeremy, Haiti, where hundreds of patients receive medical care daily.
Needs Bags
Members distributed 75 needs bags bags for the homeless outside the shelters of Tolland, Willimantic and Norwich, CT.  These bags contain items such as toothbrushes, crackers, and deodorant. Each member has been given bags to distribute elsewhere as they see people in need.
New London Community Meal Center
On November 11th, Knights and Dames managed preparers, servers, and clean up volunteers and provided meals for over 100 walk-in clients at the soup kitchen as well as 15 meals for the New London Hospitality Homeless Shelter.  They provided a meal for a local Christ the King needy family with leftovers from the soup kitchen.
York Correctional Institution
A local Dame serves the imprisoned at York Correctional Institution in Niantic, CT. She serves as an altar girl for the presiding priest on a scheduled monthly basis. Two masses per day are managed to address as many attendees as needed.
Old Lyme Congregational Church
Knights and Dames volunteered to cook and serve a meal at the local soup kitchen.
Thanksgiving Pie Bake
Knights and Dames picked bushels of apples for distribution of holiday pies for those in need for Thanksgiving at Christ the King Church's Annual Pie Bake, St. Vincent de Paul Canters, and soup kitchens.
Vincent de Paul Place
Members supplies 100 liters of beverages for their Thanksgiving celebration.
Warmth for the Poor Ministry
Since 2010, the Warmth for the Poor Ministry has been collecting donations of home heating oil for those in need. This ministry collects, on average 300 gallons of home heating oil each month.
Westbrook Food Pantry
Knights and Dames picked bushels of apples for distribution of fresh fruit for the Westbrook Food Pantry.