On the first Friday of each month, members of the Order of Malta gather at the Jeanne Jugan Residence of the Little Sisters of the Poor in Somerville for morning liturgy in the Chapel and lunch with the residents.
Fr. Pat Universal extended the warmest of welcomes to all gathered in the chapel on Friday, December 7th. Once again, Ray Bastarache proclaimed the readings and the prayers of the faithful. In his homily, Fr. Pat reflected on the need to look to the future with hope and faith. He touched on the importance of discipleship and on hearing the good news and putting it into action. May we each have the same confident faith and hope in Jesus as did those around him who needed comfort, healing and consolation.
For the liturgy, the Chapel had just over 40 in attendance with many residents, some friends, and seven of the Little Sisters. Another group of 11 residents participated in the liturgy, mostly in wheelchairs, on the balcony from the floor above. We all gathered for a moment before heading off to the dining rooms. We paused for introductions around the room, with a welcome to guests Bill Reilly and Phil Kao. Bill joins us with our group from Lynn, MA. Phil is in formation in the Federal Association and is teaching on social anthropology at Harvard University. Phil's doctoral research was concerned with aging, personhood, and the practice of caregiving in an American long-term care facility.
Mother Maureen shared words of gratitude, we then took a moment for prayer together, and then we split up into two groups and joined the residents in the second and fourth floor dining rooms to pray the Angelus together, and to give thanks for the many blessings!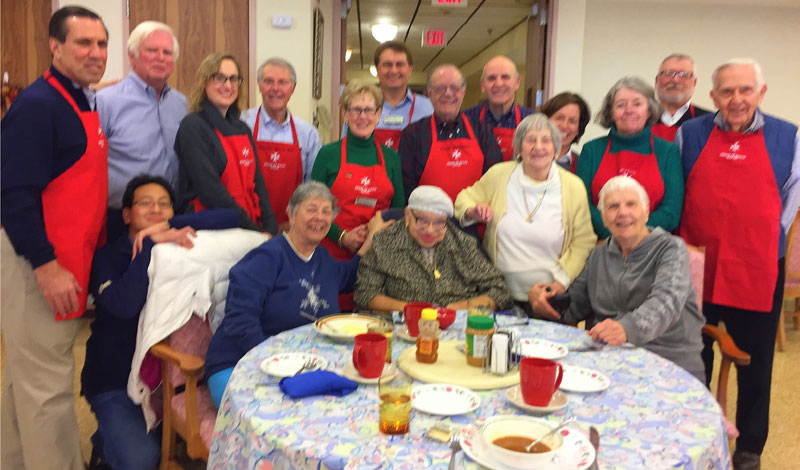 Members served vegetable orzo soup and crackers, a salad bar and dinner rolls, stuffed sole with hollandaise sauce, sweet mashed potatoes, green beans and carrots, and tapioca pudding for lunch with the residents. The residents then headed off for the usual afternoon activities including: bingo, light exercising, and, Friday humor and music!
The Order of Malta guests at this month's event included:
Ray Bastarache, KM
Joe Feitelberg,KMOb
Marc Gendreau, KM
Craig Gibson, KM
Nancy Gibson, DM
Jack Granese, KM
Phil Kao, Formation, Federal Association
Emery Maddocks,KM
Joan Maddocks, DM
Ginny Meskell, KM
Cynthia Pasciuto, DM
Bill Reilly, guest
Harvey Rowe, KM
On behalf of Mother Maureen, the Little Sisters, Courtney O'Brien, and the residents…..deep appreciation for the joy, love, and friendship from the members of the extended Order of Malta family, both in person during this visit, and through prayers in the days and weeks ahead!