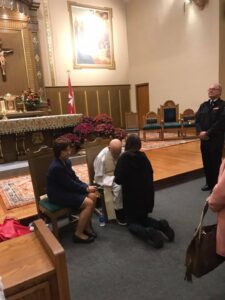 Thursday, October 24, 2019 – While all that we do is for our mission of upholding human dignity and caring for those in need, one event that the Scranton Area holds each year directly speaks to our mission "Tuitio Fidei et Obsequium Pauperum": nurturing, witnessing, and protecting the faith; and serving the poor and the sick.
Each year we have a Healing Mass followed by individual blessings for anyone in need. The priest who celebrates at this special evening each year is Monsignor John Esseff. The nonagenarian has lived an interesting life across the world. Padre Pio was his spiritual director just as Monsignor Esseff was Mother Teresa of Calcutta's spiritual director.
He is popular on social media and his Healing Masses are always well attended by those who recognize his humble piety.
Our members take part in various ministries during the evening attempting to recreate a small aspect of the Lourdes pilgrimage for the congregation.