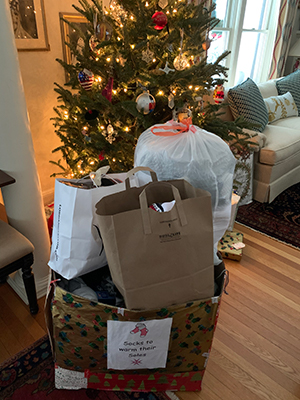 Members warm the hearts and soles of the poor this Christmas.
Socks are the #1 most requested item in homeless shelters. The Connecticut – Southern, Western & Northern Area hosted the "Warm Their Soles" sock drive for the homeless and working poor from December 7th through the 19th. 
Local members, as well as members from the New York – Westchester Area, purchased pairs of socks and either shipped or dropped them off at one of five designated drop-off locations at Area member homes throughout northern and southern Connecticut.
The "Warm Their Soles" Sock Drive collected between 700-800 pairs of socks for the homeless and working poor. The socks were divided and distributed to The Thomas Merton Center and New Covenant Center, two feeding ministries for the homeless and food insecure where local members routinely serve.