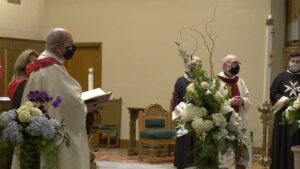 Tuesday, January 26, 2021 – The Scranton Area lost its first member this year. The cheery and sweet Maureen 'Honey' Pesavento, DM who coordinated communications for the Scranton Area, passed away after a full life.
Maureen led an extraordinary life, both raising a large family and educating herself to the graduate level and becoming a successful business leader at a time where most women had to choose one or the other. She always credited her faith and Our Lady for her ability to do both well. Her full obituary can be found here. 
Despite the pandemic restrictions as well as a wintery mix of weather, members gathered to properly memorialize our confrère. May her soul and all the souls of the faithfully departed, through the mercy of God, rest in peace. Amen.