September 23rd: Saints Zachary and Elizabeth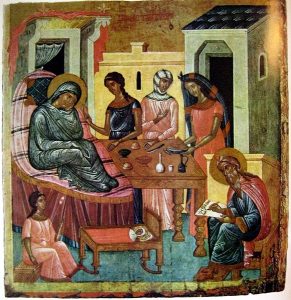 Parents of St John the Baptist
Memorial
Saints Zachary and Elizabeth were the parents of St John the Baptist and Patron Saints of The Sovereign Military Hospitaller Order of Saint John of Jerusalem, of Rhodes and of Malta. According to Saint Luke, they were righteous in the eyes of God, observing blamelessly all the commandments and ordinances of the Lord.
Collect
O God by whose grace Zachary and Elizabeth became the parents of the herald of your son, grant to us through their intercession the grace to love you above all things and so to inherit what you have promised. Amen.
This information was provided by Fra' James-Michael von Stroebel. Click here to view the complete Calendar of Liturgical Celebrations Proper to the Order.
Pictured above is the Nativity of St. John the Baptist.