The Order of Malta has a millennium of service to pilgrims. Second only to the Holy Land as a pilgrimage destination for centuries has been the Camino De Santiago de Compostela, which concludes in the eponymous city in Northwestern Spain. A new marriage was consecrated today in the Cathedral of Cordoba, Spain, by Bishop Demetria Fernandez Gonzalez, between the Camino de Santiago and the Caminos in the Americas terminating in St. Augustine, Florida. A special Mass was held today in Cordoba during which the Bishop blessed a statue of St. James from the Cathedral in Santiago de Compostela.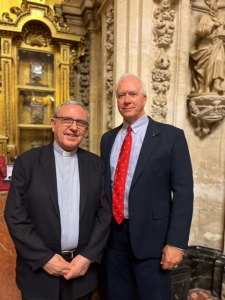 The Mass was livestreamed throughout Spain. We took possession of the statue, and will carry it through Madrid, Segovia, Aviles, and Santiago. At the Cathedral in Santiago, the image will be commended by the Canons of the Cathedral. We will then bring it home to the Cathedral in St. Augustine, Florida, marking the reopening of the Camino routes of the Americas. Pictured above are photos of the new statue in the sanctuary of the Cathedral of Cordoba after the blessing at Mass, and a photo with the Bishop of Cordoba in the Cathedral's "Secret" Cannons' Chapter Room, where the official signing of the Accord between the Cathedral of Cordoba, the Cathedral of St. Augustine, the City of St. Augustine, and the international Cathedral Alliance, was signed, with the participation of the American Association of the Order of Malta.
This is the beginning of a new alliance of faith and pilgrimage in our own back yard, and a monumental occasion for the Order of Malta's Baby Steps Camino. Our Pilgrimage will be an approved part of the Camino de Santiago, with an appropriate stamp. There is too much to say and too much to cover, but we wanted to share this profound and thrilling news from today. Exciting days ahead. We will report more as we proceed through Spain.