The Michigan Area holds a "Lourdes Experience" each year for malades and members of the Order, especially members who have accompanied malades to Lourdes. This year, the "Lourdes Experience" was held on August 15th, the Feast of Our Lady's Assumption. Archbishop Allen Vigneron, ChC, celebrated Mass at St. Owen's Catholic Church in Bloomfield Hills, along with concelebrants, Msgr. Michael LeFevre, ChM, and Fr. David Tomaszycki.
In his homily, the archbishop, quoting St. John Paul II on his visit to Lourdes on the Feast of the Assumption in 1983, encouraged Order of Malta members to ask God for "the gift of joy" – the saints' source of strength.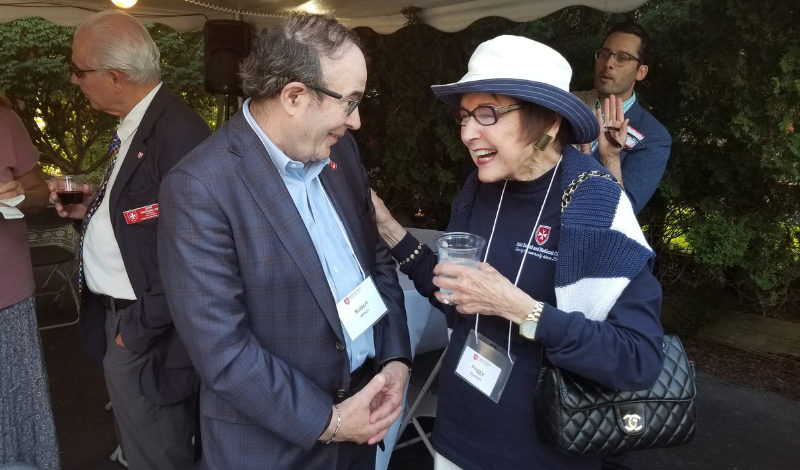 Mass was followed by a reception at the Bloomfield Hills home of Robert Wilson, KM, and Barbara Wilson, DM. Attendees heard moving recorded testimonies from Meg Eib, Malade from 2011, about her daughter Maria's Lourdes experience and Tom Cousino, Malade from our 2019 pilgrimage. Maria is pictured below being greeted by Cardinal Dolan at the 2011 Lourdes Pilgrimage.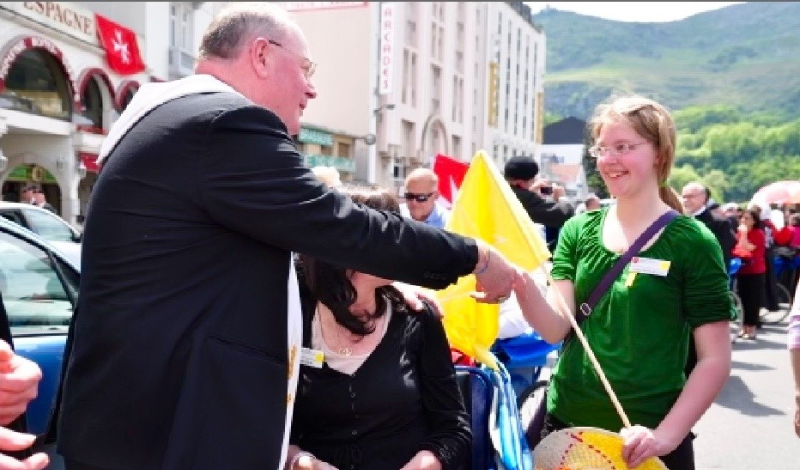 James Boynton, S.J, president of University of Detroit High School and Academy, spoke eloquently about his loss of faith following his traumatic experience serving in Haiti, where his work included "stacking dead bodies like cordwood" in the wake of natural disasters, and dealing with corrupt officials. He recounted how he regained his faith through a visit to Lourdes with Thomas Larabell, KM.
Also in attendance was Sr. Rose Mary Sam, IHM, who has visited Lourdes, and helped others to make the pilgrimage, for 45 years. Sr. Sam is a longtime volunteer and organizer at Cite Saint-Pierre (City of the Poor) in Lourdes, which provides a place to stay – plus food, medical services, and spiritual direction – for those who can't afford a hotel.