In 2005, the Order of Malta's US Virgin Islands Area was formed. As one our our first projects, the members of the Area decided to support Bishop Bevard's effort to keep the only Catholic School on St. Thomas open. We felt that the best way to achieve that goal was to offer scholarships providing assistance to children in need and, in turn, adding to the student body.
On the grounds of Our Lady of Perpetual Help Parish, there a grotto with a statue of of Our Lady. The grotto was in disrepair and the statue was very old. We offered to restore the grotto and install a new statue of Our Lady of Lourdes. Additionally, we created a brick layout in the shape of a cross with the Order of Malta emblem prominently displayed in the center. We then embarked on a campaign of selling commemorative bricks to the parishioners, their families and friends, and visitors. The proceeds of the sale went to the restoration of the grotto and the scholarship program.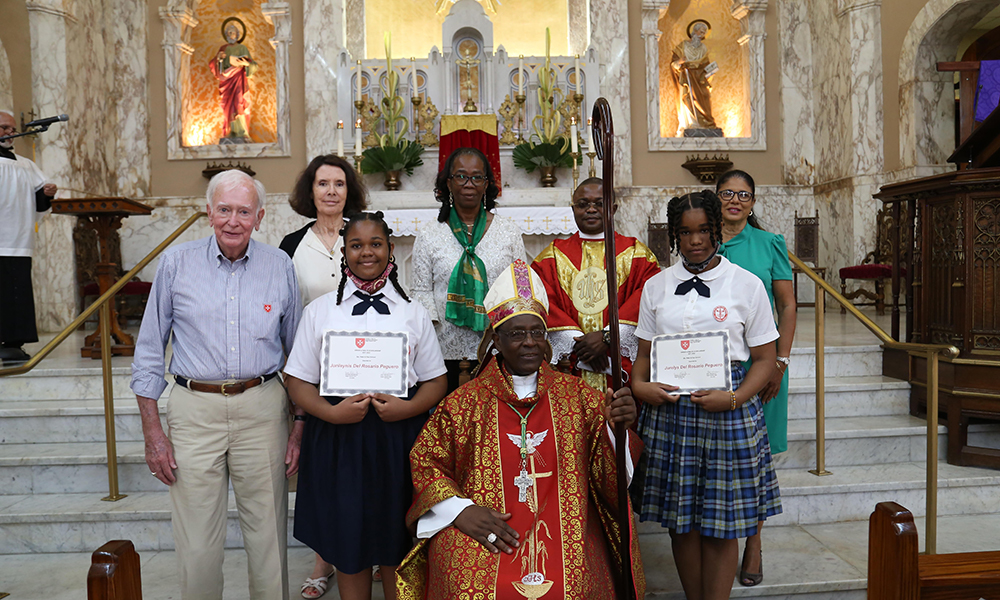 Facing the grotto and the brick layout there was also a wide expanse of grass. We named this area the Order of Malta Rosary Garden and decided to take advantage of the space by offering commemorative benches. We hold a monthly recitation of the Holy Rosary in our Order of Malta Rosary Garden and pray for the intention of our parish sick as well as for the sick members of the Order.
Bishop Bevard offered the Order of Malta a statue of Our Lady of Lourdes to replace the existing statue. The statue was white. We decided to commission Rae Kehoe, a parishioner who is a well known artist on the island, to paint it. She did extensive research to make sure that the colors she chose were those used for Our Lady of Lourdes.
The sale of commemorative bricks and benches, which is ongoing, has been very successful and has provided the funds necessary to support our goals. Over the years, we also have had Knights & Dames from other Areas visit St. Thomas and purchase bricks in memory of their loved ones. We greatly appreciate their generosity and support of our effort.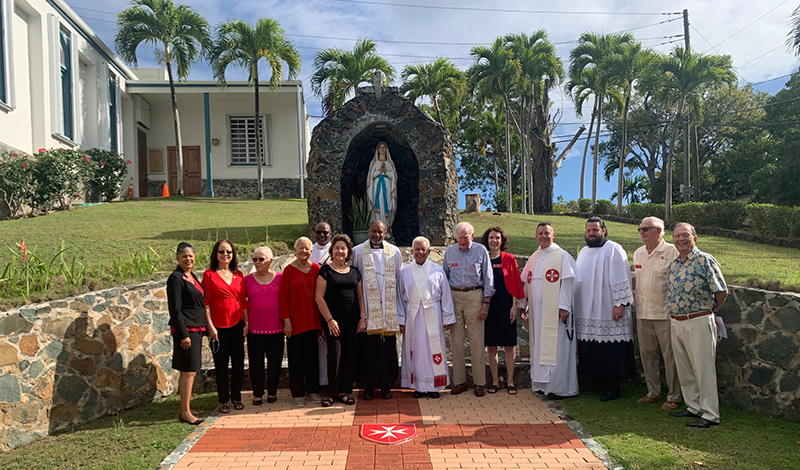 The proceeds of those sales have provided, and continue to provide, many scholarships to needy students; and, seventeen years later, Sts. Peter & Paul Catholic School is still open.
Over the years, the Rosary Garden has become a place for prayer and quiet reflection for parishioners and visitors. It also a place were the Easter Mass is celebrated and where youth groups come for overnight stay of retreat recollection, prayers, and joyful celebration.