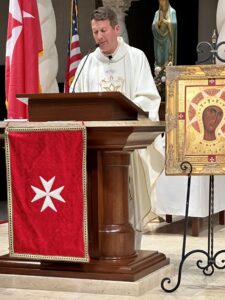 As the Order of Malta prepared for its Extraordinary Chapter General, which opened on Wednesday, January 25th, members were asked to participate in praying the Novena Prior to A Council Complete of State or Chapter General from January 15th – 23rd.
On Monday, January 23rd, the last day of this Novena, the Northeast Florida Area celebrated a special Mass for the Extraordinary Chapter General with Rev. Briggs Hurley, ChD, at San Juan Del Rio Church in Jacksonville, Florida.
Fr. Hurley offered a beautiful Mass with an insightful homily for members in attendance. Our Votive Mass of Our Lady of Philermo also included Intercessory Prayers specific to the Order of Malta and this Extraordinary Chapter General. American and Federal Association Members attended in the unity of the Subpriory of Our Lady of Lourdes.  
The Mass was livestreamed and can be viewed on the San Juan Del Rio Catholic Church Facebook page when you click here.