In keeping with the Order's commitment to serve "the poor and sick," Michigan Area members assisted at the Archdiocese of Detroit's annual Mass with Anointing of the Sick, held Sunday, February 5th at the Cathedral of the Most Blessed Sacrament in Detroit. The Mass, attended by 27 members of the Order, was celebrated by Archbishop Allen H. Vigneron, ChC.
As in years past, the archbishop invited members of the Michigan Area to participate in the healing Mass, held on the World Day of the Sick in connection with the feast day of Our Lady of Lourdes. Members of the Order welcomed those who were being anointed and presented them with small packets of Lourdes water. Other Knights and Dames proclaimed the readings at Mass and assisted with the anointing.
Archbishop Vigneron, with concelebrants Fr. Stephen Burr, rector of Sacred Heart Major Seminary, and Fr. Matthew Hood, chaplain for Wayne State University and the University of Michigan-Dearborn, conducted the anointing.
In his homily, Archbishop Vigneron explained that the anointing is a continuation of "the very ministry of Christ in caring for the sick."
While all Christians are called to carry their crosses in union with Christ, the sick are "a particular salt" for the world, he said, referring to Christ's call for his disciples to be "salt and light" to the world.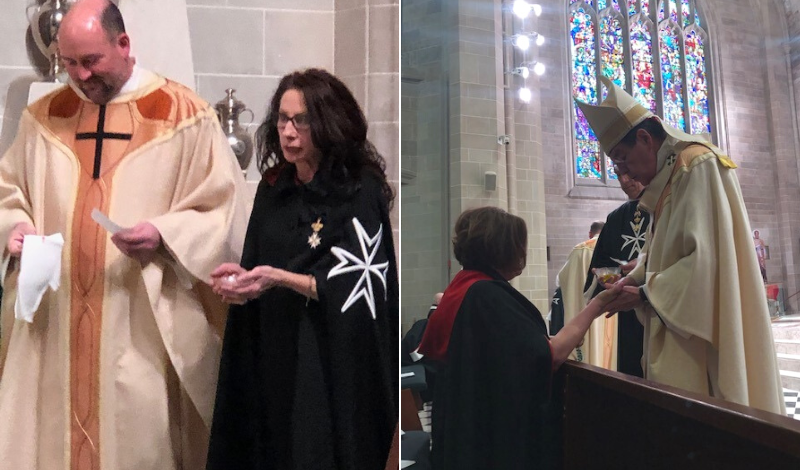 Pictured left: Kathleen Mastrangelo, DM, assisting Fr. Burr. Pictured right: Archbishop Vigneron anointing Dame
The sick are called "to reveal to the world that sickness has meaning when lived in union with Christ," the archbishop said.
While the hoped-for effect of the anointing is that the sick person be physically healed, even if there is no physical healing, the sacrament has a spiritual effect, strengthening the sick person against the temptation to pessimism and despair: The sacrament "pours out afresh upon you a new share in the Holy Spirit, the same Spirit in which Jesus enduring suffering … to bear your illness with the strength of Christ … able to walk the path that leads through Golgatha to Easter Sunday."
This year's anointing Mass had special significance, as Michigan Area members prepare to help Archbishop Vigneron fulfill a vow he made in 2020 during the COVID pandemic: To build a grotto dedicated to Our Lady of Lourdes on the grounds of the cathedral. This project is in thanksgiving to Our Lady of Lourdes for her intercession and protection from the pandemic.
You can click here to see an additional article about this event featured in the Detroit Catholic.