Maureen Gallagher Gibbons, DM, (holding award), Area Co-chair with her husband, Michael, for the Nassau and Suffolk Counties Area of the Order of Malta, American Association, was honored recently with the 2019 Inspiring Global Nurse Award at the Third Annual International Nurses Day Celebration in the Delegates Dining Room at the United Nations. A longtime critical care nurse, she was one of 21 nurses honored Friday, May 10, 2019.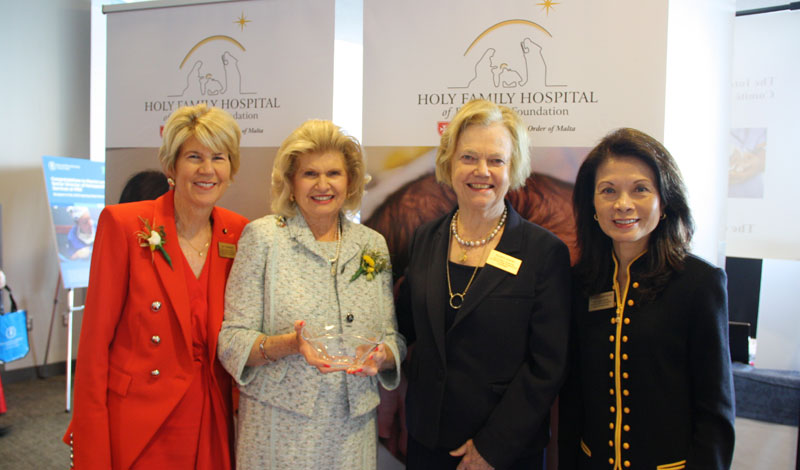 She is pictured above with American Association Board Members of the Holy Family Hospital of Bethlehem Foundation. From left: Gail Berardino, DM; Maureen Gibbons, DM; Ellen Schlafly
Shafer, DMOb; and Marissa Del Rosario-Blackett, DM.
Another nurse who received the award was Suha Mohammed Oweinah, Head Nurse at Holy Family Hospital of Bethlehem. She was unable to attend the May 10th ceremony, which was presented by Nurses with Global Impact. She has worked for almost 30 years at the hospital in Bethlehem during many periods of unrest and danger. Her commitment to the mission of this Catholic, maternity, teaching hospital has been unshakable. Holy Family Hospital of Bethlehem was established as a primary work of the Order of Malta by Pope St. John Paul II. The hospital has grown over the years and 4,500 babies were delivered there in 2018 as well as 440 infants in its Neonatal Intensive Care Unit.
The award that Maureen and Suha, among others, received honored "nurses in front line roles who demonstrate exemplary practice by impacting the global delivery of health care". Maureen has years of experience in New York and Long Island hospitals. She has been a longtime member of the medical team of the Association's annual Pilgrimage to Lourdes. She has also made annual summer pilgrimages to Lourdes to work in the baths as a Hospitaller of Notre Dame du Lourdes.
Maureen has visited and taught at Hopital Sacre Coeur in Milot, Haiti as well as a trip to Holy Family Hospital of Bethlehem on a pilgrimage. She and her husband, Michael, and Rev. Msgr. Frank J. Caldwell, ChM, welcomed volunteers for a second collection for Holy Family Hospital of Bethlehem at Cure of Ars Church in Merrick, Long Island.
A number of members of the Order of Malta American Association came to the United Nations to honor Maureen and the work of other Nurses with Global Impact. It was a most heartening day.