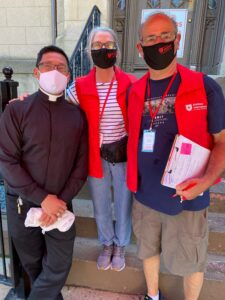 On Thursday, June 3rd and Saturday, June 5th, Malteser International Americas teamed up with St. John's Free Health Clinic in Newark, New Jersey to host a Covid-19 Vaccine Clinic. Several New Jersey Area Knights, Dames, Auxiliary and Candidates volunteered their time and effort for this event.
Marissa Blackett, DM, New York City Area member and Malteser International Americas board member, Sister Charlene Kostuck, PA-C, SSJ, Clinic Director, and Troy Simmons, KM, New Jersey Area Hospitaller for the Archdiocese of Newark, coordinated this vaccine clinic.
The St. John's Health Clinic, which is located at the oldest Roman Catholic Parish in the Archdiocese of Newark, provides needed health services to the homeless population of Essex County.
Plans are underway to have a similar clinic for the flu vaccine early this fall. If you are interested in working with the COVID-19 and flu vaccine clinics, please contact Marissa Blackett, DM.