Back in September 2021, members of the New York – Westchester Area gathered together at St. Augustine's Church in Ossining to celebrate their annual Mass in honor of the Feast of Our Lady of Philermo. Knights and Dames are pictured above at this Mass, which was celebrated by Fr. Brian McSweeney, ChD.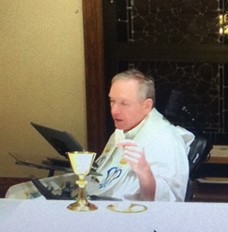 At the end of the year, members celebrated their annual Mass for the Solemnity of the Immaculate Conception of the Blessed Virgin Mary. Pictured above is Fr. Robert Dunn, ChM, celebrant of this Mass.
Outreach to the Poor
Since Covid-19 hit almost two years ago, the Westchester Area has ramped up service to food pantries, shelters, and soup kitchens in Westchester and the Bronx:
Good Counsel Homes: Monthly grocery and baby supply purchases, Thanksgiving and Christmas dinners, as well as gift cards for the single moms.
The Missionaries of Charity Queen of Peace Soup Kitchen and the Missionaries of Charity Contemplatives Convent: Monthly donations of groceries and supplies to their two locations.
Hope Food Pantry: Weekly donations of groceries. Food is purchased from a grocery wholesaler and delivered in time for their weekly distribution to the poor. Hope services over 1,000 young families with children in the New Rochelle area. Most are from Mexico and Central America and are still suffering due to the lack of work due to Covid.