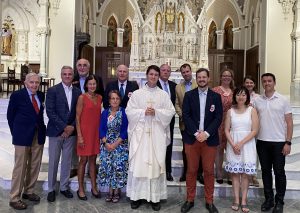 The Solemnity of the Nativity of St. John the Baptist was celebrated with Mass and receptions across the New England states that comprise the Boston Area. Members and chaplains of the Order of Malta came together for four gatherings in the region.
The Order in New Hampshire came together at Our Lady of Fatima Parish in New London. Ken and Julie Brown were hosts to the local Order after Fr. Donald Clinton celebrated the most northerly of the Boston Area Masses.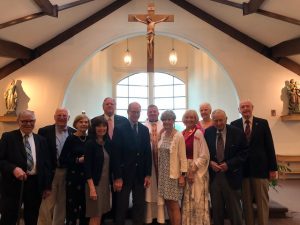 The Order in Rhode Island gathered together for Mass at Our Lady of Providence Seminary with Fr. Chris Murphy and Fr. Henry Bodah. Fr. Murphy, the rector of the seminary, provided an interesting sermon imploring all of us, like St. John the Baptist, to use our God-given talents to do what we are capable of doing to advance the Kingdom of God. Rhode Island Hospitaller Tim and Collette Maynard gathered the group afterwards for wine tasting and dinner on Federal Hill.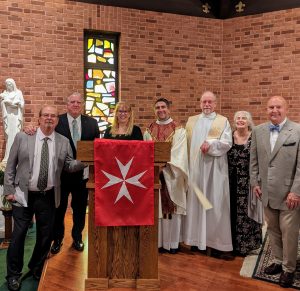 While Boston Area Chair Tommy Driscoll journeyed to all the St. John Masses this past week, he and Jane Driscoll also gathered many from the Boston Area and summer visitors to Cape Cod besides at their Centerville home following a beautiful Mass and homily prepared by Msgr. James P. Moroney, ChM at Our Lady of the Assumption Parish. This memorable gathering was enjoyed by all!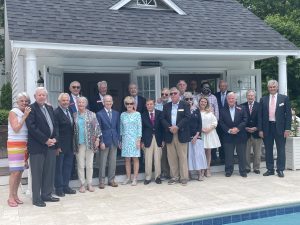 The Boston Area came home to the Cathedral of the Holy Cross with Mass celebrated by its rector Msgr. Kevin J. O'Leary, ChD. A beautiful liturgy was prepared and the newly ordained Fr. Nathaniel Sanders preached, recalling the Order of Malta's history and continuing service. Fr. Nate, familiar with the Order of Malta through time spent in France during his formation, encouraged us to look forward: the tumult of the past should never dim the brilliance of what our Lord has in store for us! Fr. Nate also offered first blessings of his priesthood after Mass and Msgr. O'Leary led all assembled to pray for his brilliant ministry and the ministries of all our newly ordained. Community and refreshment was enjoyed afterwards in the South End neighborhood.