At the invitation of Cardinal Sean O'Malley, members from the Boston Area were recently invited to participate in the 2019 Ordination to the Priesthood.  We initially assembled near the Cathedral offices in the basement, and then moved to the area where clergy were vesting for the Mass. It was wonderful to see and talk with so many clergy friends, including Fr. Steve Linehan, on the faculty at Pope St. John XXIII in Weston.  Fr. Steve spent time catching up with Charley Holden and Harvey Rowe.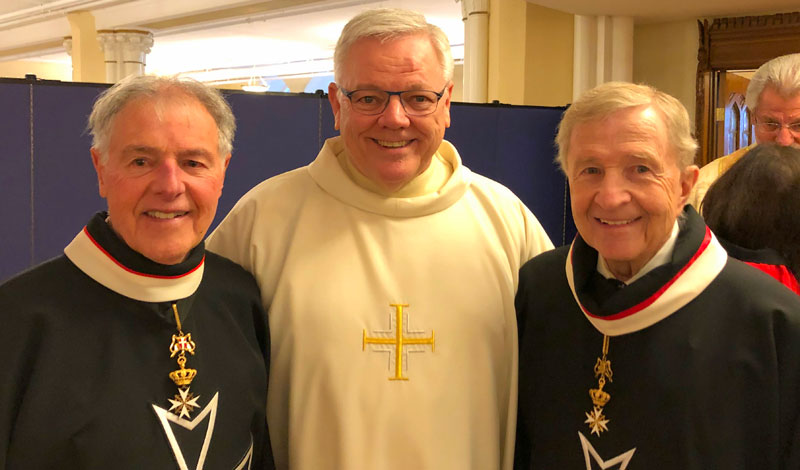 On Saturday morning, May 18, 2019, Cardinal Sean O'Malley ordained 13 men to the priesthood at the Cathedral of the Holy Cross in Boston. These men join their fellow priests in the Archdiocese of Boston and throughout the Roman Catholic Church, in witnessing the daily presence of the Lord to Catholics in our parishes and local communities. The newly renovated Cathedral of the Holy Cross was overflowing with clergy, family, friends, and fellow parishioners for the annual Rite of Ordination to the Order of Presbyter.
As the Rite of Ordination began, each man stood and answered "present" as his name was called, as Rev. Stephen Sallocks, Rector of St. John's Seminary, presented the candidates to the Cardinal. The Cardinal elected the men for ordination with the consent of the friends, family and supporters of the candidates to a round of applause, which signified their approval. Later, after Cardinal O'Malley performed the laying on of hands, all of the priests present joined in this prayerful gesture. The photo below shows Fr. Sallocks followed by the Very Rev. Brian Kiely.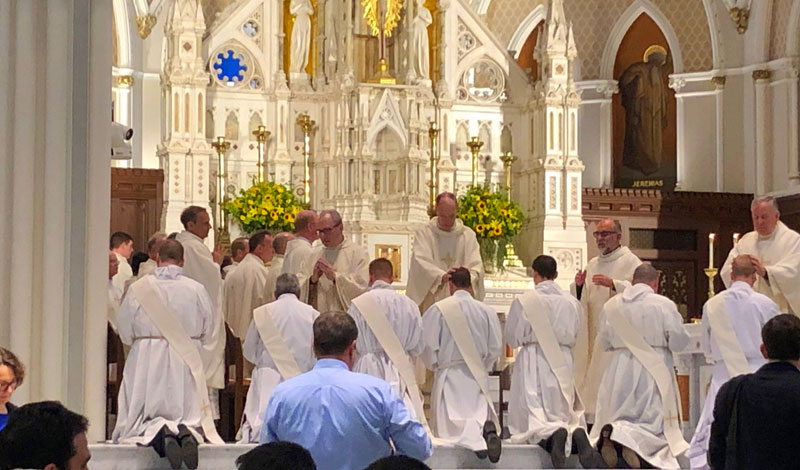 Just before the end of the ordination Mass, one of the ministers of the liturgy brought out a kneeler and placed it front of the altar. Cardinal O'Malley then proceeded out in front and knelt as a sign of humility and fraternity as each of the newly ordained then provided the Cardinal with a blessing. Kathleen Holden, DM, said it was an uplifting and awesome experience full of tradition, meaning, faith, and a lifetime commitment!